Diese Veranstaltung hat bereits stattgefunden.
Tango Weekend with Bruno and Rocío
September 8 @ 18:00
-
September 10 @ 17:45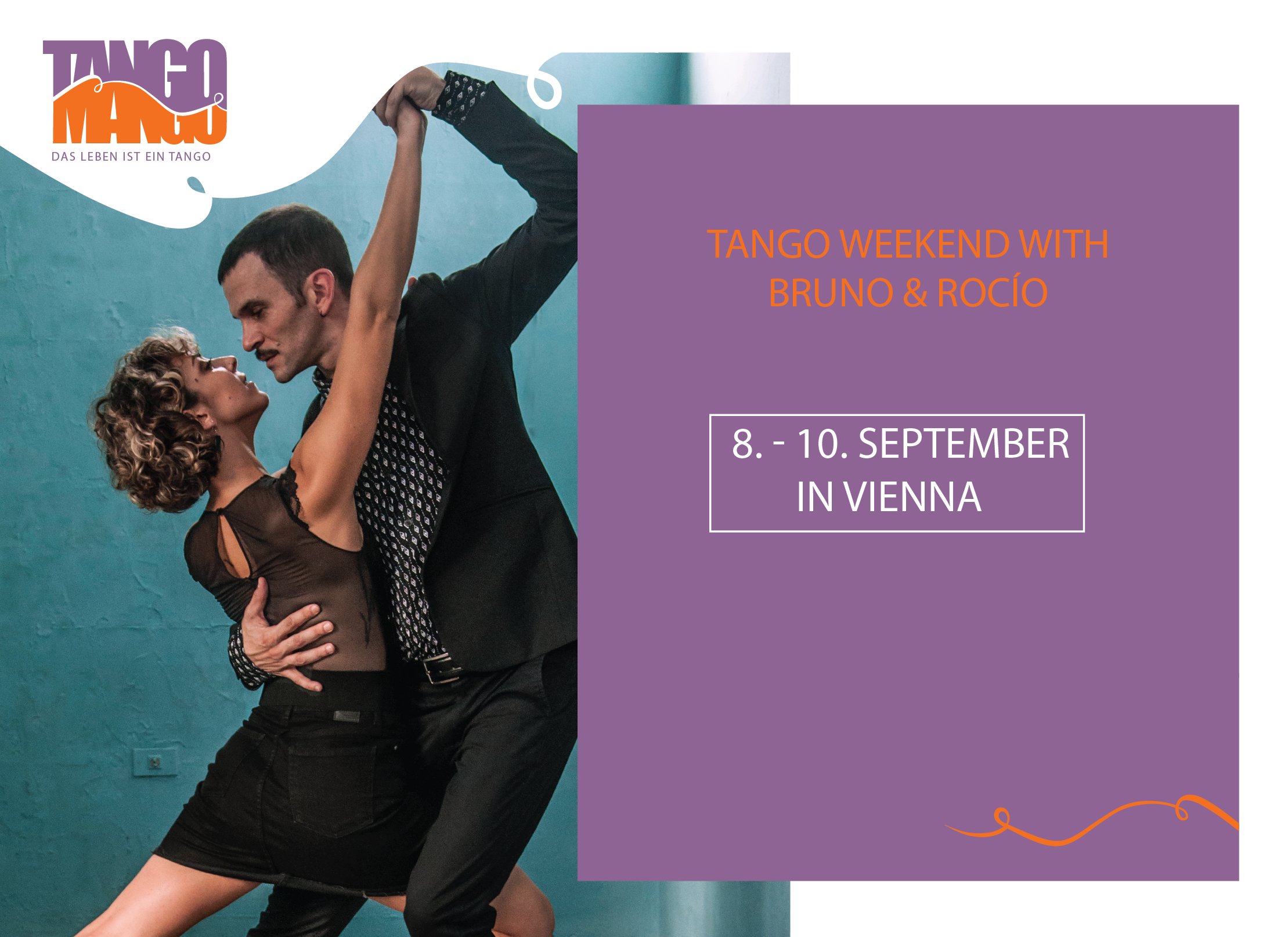 Tango Weekend
Bruno Tombari and Rocio Lequio will be back in Vienna for another round of teaching and dancing for us on the weekend of the 8th to 10th of September. So take the chance and learn from them and let's have a party!
FRIDAY, 8th of September 2023
🥭#Seminar IMPRO 1 (18:00 – 19:30h):
Impro. Three keys to enrich your dance
15 minutes pause
🥭Workshop 1 (19:45 – 21:15h):
Basics. The secret of our embrace
🥭PRE PARTY MILONGA 🥭: 21:30 – 02:00 @Galería Ideal, Geibelgasse 14-16, 1150 Vienna
SATURDAY, 9th of September 2023
🥭 #Seminar IMPRO 2 (16:15 – 17:45h):
Impro. The symmetry of an asymmetrical dance
15 minutes pause
🥭 Workshop 2 (18:00 – 19:30h):
Sequences for crowded milongas
🥭TANGO MANGO GRAND MILONGA🥭:
21:00 – 04:00 h @Urania Sternwarte, 1010 Vienna – with DJ OSKY, live music by SIN PALABRAS & performance by BRUNO y ROCÍO
For more infos concerning the milonga klick here.
SUNDAY, 10th of September 2023
🥭Workshop 3 (14:30 – 16:00h):
Barridas. Meeting of the free legs
15 minuten pause
🥭Workshop 4 (16:15 – 17:45h):
Sacadas. From rookie to master
#Seminar: IMPRO Tango Game with Bruno & Rocío
Improvisation is about taking action. That's why we need to know which elements we can use in the moment of dancing.
This seminar, consisting of 2 lessons, introduced a game that ByR developed over the past years. It contains 40 cards with options that organize their dance and challenge them to improvise with an external guide. The game will inspire you to enhance your improvisation in a creative and playful way.
******
Location of the Seminar/ Workshops & PRE PARTY: Galería Ideal, Geibelgasse 14, 1150 Wien
Location of the GRAND MILONGA: Urania-Sternwarte, Uraniastraße 1, 1010 Vienna
******
Prices per person:
1x Workshop: 35€
2x IMPRO (Seminar): 60€
4x Workshops (Kombi-Ticket): 120€
6x All-in Package (all workshops + IMPRO): 160€ (normal price)
6x All-in Package (all workshops + IMPRO): 140€* YOUNG
1x Entry GRAND MILONGA: 35€/ 30€* YOUNG (including one drink)
*YOUNG discount = under 30 years old
SPECIAL OFFER: 10% OFF for those who will also attend the lessons with ByR in the Festival in Bratislava (29.9.-1.10.2023)!
******
Registration open now:
write us an email to info@tangomango.at with your name and the name of your partner in order to save your spot in the workshops!
For the workshops and seminars you need to be dancing tango at least for 1/2 year and you need a partner. So please register in couples; if you are interested in the workshops or the seminar but you have no partner, write uns and we can try to find someone for you. Thank you!
Be aware that there is the possibility to take private lessons with Bruno and/or Rocío – something that we can highly recommend!
❤️
We are looking forward to enjoying this wonderful weekend with you and our amazing guests!
Abrazo
YOUR TANGO MANGO TEAM
PS: For any questions don't hesitate to contact us and stay tuned for more information and visit us also on Instagram and Facebook.
PPS: To get an impression of Bruno y Rocío dancing, check out their video of the performance last year @Urania:
EVENT DETAILS