Diese Veranstaltung hat bereits stattgefunden.
€25 – €30
TANGO MANGO GRAND MILONGA
September 3, 2022 @ 21:00
-
September 4, 2022 @ 04:00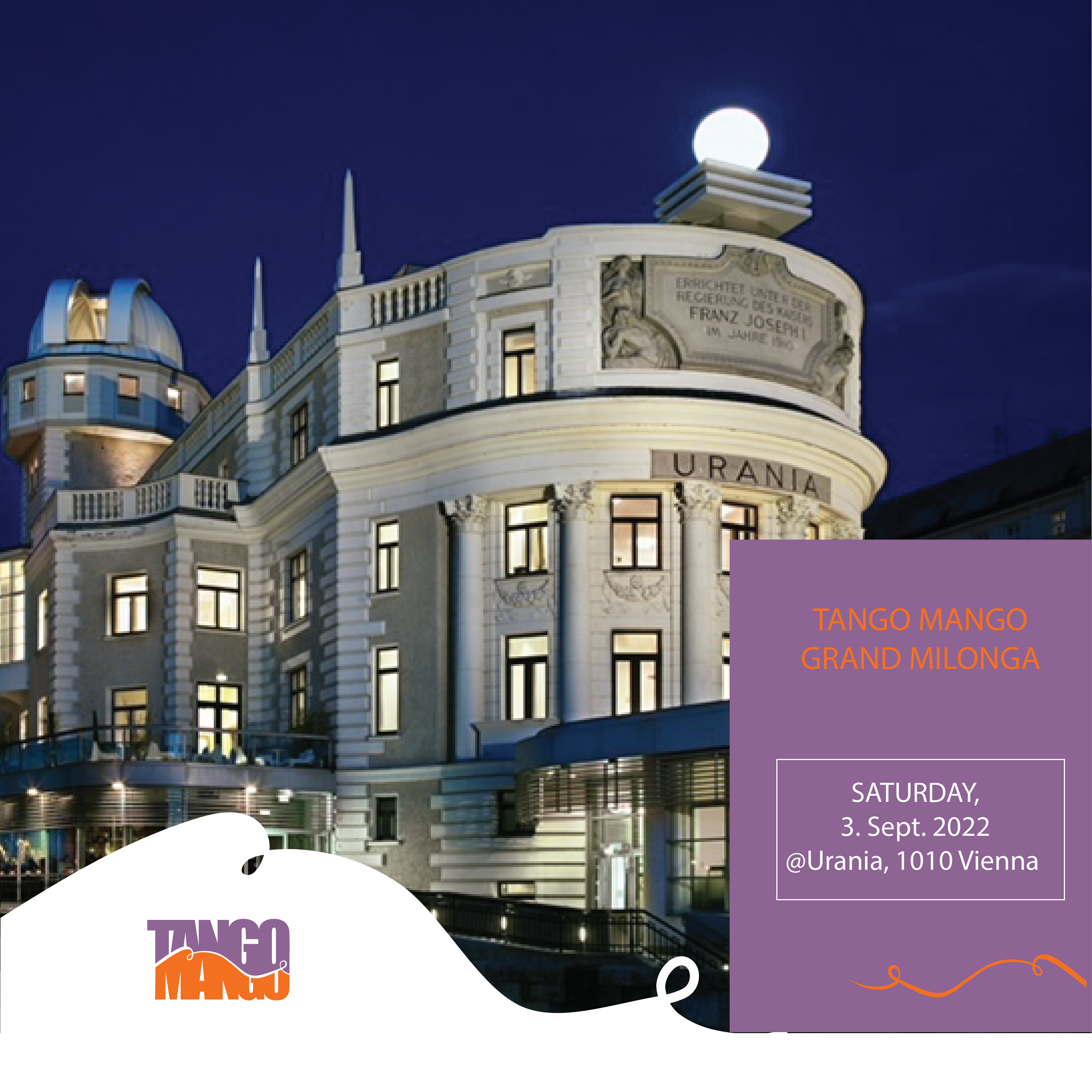 Hola queridas tangueras y queridos tangueros,
we invite you to our special event on Saturday, 3rd of September: Tango Mango Grand Milonga! Ok, maybe we could have found a better name, but it's our first Evening Milonga, so give us time ;).
For this special occasion we are happy to announce an exciting location in the center of Vienna, near the Danube Canal: the Urania. The great hall in situated on the top of the building with multiple terraces offering breathtaking views over the city. 💫
Bruno & Rocío will be performing and sharing their playfulness and unique expression with us. <3
On the weekend of our Milonga, you also have the opportunity to learn from and with them in different workshops. All infos here: https://tangomango.at/event/tango-weekend-with-bruno-and-rocio/.
We also can't wait to listen to DJ David Mancini´s great music that will keep us dancing all night – our feet may hurt after this milonga, but rest assured, we will be happy! Or as David would phrase it: "The challenge as a DJ is following and leading the emotions of the ronda, in order to generate the perfect energy flow, building a path to happiness." 🎶
But David isn't just a great DJ, he is also a great dancer. So we have the pleasure to have an extra guest performance by him and his partner Salomé. 🥳
🥭TANGO MANGO GRAND MILONGA: Saturday, 3.9.2022, 9:00 pm. – 04:00 am
🥭@Urania-Sternwarte, Uraniastraße 1, 1010 Wien
🥭with DJ David Mancini
🥭Grand Performance: Bruno & Rocío
🥭Guest Performance: Duddie & Salome
🥭Price: 30€ / 25€ *YOUNG (one drink included)
*discount YOUNG = under 30 years old
Registration open:
To register and save your spot for this event, please klick the button below:
Add-ons:
You will have the possibility to check out some tango shoes from Tangolera: https://tangolerashoes.com/gb/ as well as tango clothing from designer and creator Anita Koller: http://www.modecreator.com.
We will await you with hugs and party-mood, looking forward to celebrating and dancing together!
Big hugs
Marcelo & Noémi
🥭 PS: Yes, there will be an amazing bar. And yes, we will have a signature drink waiting for you.
🥭 PPS: And yes, you can get with your free drink even our signature drink – and you won't regret it!
EVENT DETAILS